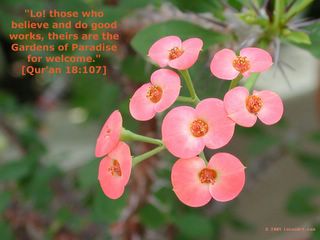 Let me write this post in English _as it's the language I use to write to Sara, my sister, the most beautiful daughter of Prophet Muhammad (Peace to Him), and her kind wishes of peace, love, compassion and understunding. You can see, my dear, that I follow your advices, and make my efforts to understand the beauty of the Islam which I see inside you _and to learn its message.
It's because of you I've put myself again at the feet of my spiritual buddhist master, to look forward his guide through compassion, to me and to the others who suffer as I do, who are confussionate as I am, to bring up goodness from where only was evil.
And it's really because of you and the gift you have made to me through Islam. It really is.
You have teached to me
that Goodness _and Godness can be found everywhere. And your links in my worst post are so kind as brave and honest, helping me as you do believe you can _as you are indeed.
This flower is your portrait as I see you, beautiful in your hijab, glowing under the Sun of the Desert.
Esta flor es también para otros.
Gracias, Ent. Sé que sigues ahí. Lejos, pero cerca.
Obrigada, José. Tú sabes lo que es esto.
Obrigada tambien, Joca. Tu español, para mí, es el más bello.
Gracias, R. y Herber West, por buscar ayuda en mi nombre.
Y a quienes habéis sentido compasión alguna al leerme estos días, gracias también. A vosotros en particular os pido que penséis en mí si alguna vez en vuestra vida tenéis que presenciar la locura en alguien cercano. Depende de cada uno de nosotros, de vosotros, separar la vida de la muerte de casi un millón de personas, sólo en Europa, cada año. Yo todavía estoy aquí.
Todavía tengo esperanza.